Faster Lessons Personal Trainer / Health Club Version
Faster Lessons programs are ideal for personal trainers and health clubs. We felt very strongly during our product development that the personal trainer/health club industry should have their own version of our programs that use more specific terminology (wording) associated with their industry. Three key words are replaced throughout the program to appeal more to the personal trainer/health club subscriber and their customers.
If choosing the personal trainer/health club version of our program, the 3 words below will be replaced by the following:
"instructor" to "trainer"
"lesson" to "session"
"student" to "client"
Please keep this in mind while viewing our product demo screenshots.
Take The Tour
View screenshots to see how easy it is for students to schedule and manage lessons using the Faster Lessons program. Also, get a chance to view many of the beneficial administrative features for individual instructors and facilities.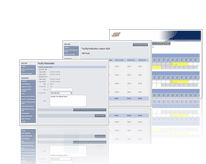 Customer Features
Check out the many customer features that will have students booking and managing lessons with ease.