About Faster Lessons
The Faster Lessons concept was born in the summer of 2005 when a Baseball Academy owner, frustrated by inefficiencies in the lesson booking process, saw a need for a better client reservation system. The idea was to offer customers an online option for scheduling and purchasing lessons. Student ability to self book and completely customize their lesson schedule, would help to eliminate the inefficient booking methods of the past.
The original scheduling/facility management program was developed in 2005. The Baseball Academy owner saw instant success with the program. Customers loved the ease of self booking and booked more lessons than ever before. Improved staff management was another key component to the success of the program. Administrators and instructors would work together to open instructor lesson blocks. Once blocks were open, they were open for customers to book lessons online. Instructors would check their schedule via the web without having to call in, and staff no longer needed to call instructors each time lessons were scheduled. This made for a much more efficient and profitable way of doing business.
Not long after the success of the original program, the Baseball Academy owner realized that he could help others in the lesson scheduling and facility management business by building a much more comprehensive program, a program that would offer numerous custom options. The Faster Lessons program took three years to develop and launched in the winter of 2009.
We currently offer 3 web based monthly subscription products that serve the needs of individual instructors (Level 1 program) and facilities employing instructors (Level 2 and Level 3 program). Faster Lessons scheduling and facility management software has been developed through firsthand knowledge of the lesson scheduling business. We take pride in having built programs with a broad range of functionality and customization options that work for almost any lesson scheduling business.
Faster Lessons is committed to providing the best scheduling programs on the market and the highest level of customer service for its subscribers. We are confident that our programs will help your business become more efficient and profitable. We will always listen to our customers and we will continue to stay focused on improving our products.
Take The Tour
View screenshots to see how easy it is for students to schedule and manage lessons using the Faster Lessons program. Also, get a chance to view many of the beneficial administrative features for individual instructors and facilities.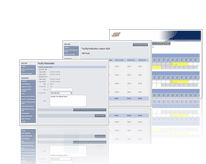 Products and Features
Check out the products and features that will help you grow and manage your lesson scheduling and facility business. See how Faster Lessons can be customized for your business and how using the program can save you time and money!