FASTER LESSONS TERMS OF USE
The following terms and conditions ("Terms of Use") apply to all visitors to or users of the Faster Lessons website (the "Site"), which is owned and operated by Faster Lessons, LLC, a limited liability company with an address at 18966 Bonanza Way, Gaithersburg, MD 20879 ("Faster Lessons"). Faster Lessons offers various services, including lesson scheduling services (collectively, the "Services"), through this Site. By accessing this Site, you acknowledge acceptance of these Terms of Use. If you are a lesson provider and choose to subscribe to our Services (a "Subscriber"), you also agree to our Subscription Terms. Faster Lessons reserves the right to change these Terms of Use from time to time at its sole discretion, provided that no Services to which you currently subscribe will be substantially modified except as permitted in the Subscription Terms. Your continued use of the Site following the posting of changes to these Terms of Use means that you accept those changes. In the case of any violation of these Terms of Use, Faster Lessons reserves the right to seek all remedies available by law and in equity for such violations. These Terms of Use apply to all visits to the Site and uses of the Services, both now and in the future.
Age Restrictions
You must be at least 18 years old, or if a Canadian, at least the age of majority in your province or territory of residence, to use this Site to schedule or pay for a lesson, or submit personal information (including credit card information) to this Site. If you are under 18, or under the age of majority in your province or territory of residence and Canadian, and want to schedule a lesson or create a user account, you must ask a parent or guardian to do so on your behalf. Your parent or guardian must first read and accept these Terms of Use. The US Children's Online Privacy Protection Act applies to the online collection of personal information from children under 13. This Site is not aimed at children under the age of 13. If we discover that we have inadvertently collected personal information from a child under 13, we will delete that information and, if the child is resident in the US, attempt to contact the child's parent or guardian.
Submissions of Information
You represent that all information that you submit in the course of using the Site or the services is truthful, materially complete and is not submitted for any fraudulent purpose. All information that you submit is subject to our Privacy Policy. However, Faster Lessons does not control the privacy practices of any of the lesson providers who offer lessons through the Site, and you are advised to read each lesson provider's privacy policy or contact them to find out how your information will be used.
Contractual Relationship between Users and Lesson Providers
This Site can be used to schedule and pay for lessons, which may result in a contract arising between the user and the lesson provider. Faster Lessons does not endorse or recommend any lesson provider and makes no representations or warranties, express or implied, in respect of any of the services or lessons (including, without limitation, related to the quality or safety of such lessons) provided by any lesson provider. Faster Lessons is not responsible for the contractual obligations of either the user or the lesson provider and cannot become involved in any disputes that may arise between them. Users should be very careful to maintain the security of their account password and credit card information, as the user may be held responsible for any lesson orders placed through his or her account.
Licenses And Restrictions
All software used to operate the Site and the Services ("Software") and all content on the Site ("Content"), including, but not limited to, design, text, graphics, other files, and their selection and arrangement, is owned or licensed by Faster Lessons. You may view, download and print Content only for your personal, noncommercial use. You may access and use, but not copy, download, publish, reverse-engineer, license, or modify, the user interface of the Software made available to you in the normal use of the Site. No other use of the Software or Content is authorized. You may not post material from this site on another site or on a computer network, or frame or link to this site, without our prior written permission. You may not transmit or distribute Content from this site to others. In consideration of this authorization, you agree that any copy of Content which you make shall retain all copyright and other proprietary notices in the same form and manner as on the original. Except as specified above, nothing contained herein shall be construed as conferring by implication, estoppel or otherwise any license or right under any patent, trademark or copyright of Faster Lessons or any third party.
THE SOFTWARE AND ALL CONTENT ON THIS SITE ARE PROTECTED BY COPYRIGHT. EXCEPT AS SPECIFICALLY PERMITTED HEREIN, NO PORTION OF THE THIS SITE MAY BE REPRODUCED IN ANY FORM, OR BY ANY MEANS, WITHOUT PRIOR WRITTEN PERMISSION FROM FASTER LESSONS. NO ONE IS PERMITTED TO MODIFY, COPY, DISTRIBUTE, PUBLISH, DISPLAY, TRANSMIT, REVERSE-ENGINEER, LICENSE OR CREATE DERIVATIVE WORKS OF ANY CONTENT AND/OR THE SOFTWARE FOUND ON THIS SITE FOR ANY PURPOSES (INCLUDING WITHOUT LIMITATION, ANY PUBLIC OR COMMERCIAL PURPOSES).
Credit Card Processing
When you pay for a lesson on this Site, you must pay by credit card. Your credit card transaction will be processed by a third party credit card processor.
General Disclaimer
Although Faster Lessons has attempted to provide accurate information on the Site, we assume no responsibility for the accuracy of the information. We may change the services offered through the Site at any time without notice, although such changes will not affect any services to which you are currently subscribed except as provided in the Subscription Terms.
Disclaimer of Warranties
YOU UNDERSTAND AND AGREE THAT THIS SITE IS PROVIDED ON AN "AS IS" AND "AS AVAILABLE" BASIS. FASTER LESSONS AND ITS SUPPLIERS DISCLAIM ALL REPRESENTATIONS AND WARRANTIES, EXPRESSED OR IMPLIED INCLUDING, WITHOUT LIMITATION, THOSE OF MERCHANTABILITY, FITNESS FOR A PARTICULAR PURPOSE, TITLE AND NONINFRINGEMENT OR ARISING FROM A COURSE OF DEALING, USAGE, OR TRADE PRACTICE. FASTER LESSONS MAKES NO REPRESENTATION OR WARRANTY THAT (1) THE SITE OR SERVICES WILL MEET YOUR REQUIREMENTS, (2) THE SITE OR SERVICES WILL BE UNINTERRUPTED, TIMELY, SECURE OR ERROR-FREE, OR (3) ANY ERRORS IN THE SITE OR SERVICES WILL BE CORRECTED.
ANY MATERIAL DOWNLOADED OR OTHERWISE OBTAINED THROUGH THE USE OF THE SITE IS DONE AT YOUR OWN DISCRETION AND RISK AND YOU AGREE THAT YOU WILL BE SOLELY RESPONSIBLE FOR ANY DAMAGE TO YOUR COMPUTER SYSTEM OR LOSS OF DATA THAT RESULTS FROM THE DOWNLOAD OF ANY SUCH MATERIAL.
SOME JURISDICTIONS DO NOT ALLOW THE EXCLUSION OF CERTAIN WARRANTIES OR THE LIMITATION OR EXCLUSION OF LIABILITY FOR INCIDENTAL OR CONSEQUENTIAL DAMAGES. ACCORDINGLY, SOME OF THE ABOVE LIMITATIONS MAY NOT APPLY TO YOU. Limitation of Liability FASTER LESSONS AND ITS SUPPLIERS (INCLUDING THIRD PARTY CREDIT CARD PROCESSORS) SHALL NOT BE LIABLE FOR ANY INDIRECT, SPECIAL, CONSEQUENTIAL, OR INCIDENTAL DAMAGES, INCLUDING, WITHOUT LIMITATION, LOST PROFITS OR REVENUES, COSTS OF REPLACEMENT SERVICES, LOSS OR DAMAGE TO DATA ARISING OUT OF THE USE OR INABILITY TO USE THIS SITE OR ANY FASTER LESSONS SERVICES, OR DAMAGES RESULTING FROM USE OF OR RELIANCE ON THE SITE OR THE SERVICES, EVEN IF FASTER LESSONS OR ITS SUPPLIERS HAVE BEEN ADVISED OF THE POSSIBILITY OF SUCH DAMAGES. SOME JURISDICTIONS DO NOT ALLOW FOR THE EXCLUSION OF THE LIMITATION OR EXCLUSION OF LIABILITY FOR INCIDENTAL OR CONSEQUENTIAL DAMAGES. ACCORDINGLY, SOME OF THE ABOVE LIMITATIONS MAY NOT APPLY TO YOU. IN NO EVENT WILL FASTER LESSONS' TOTAL CUMULATIVE DAMAGES EXCEED THE AMOUNTS YOU HAVE PAID TO US IN THE PAST 6 MONTHS IF YOU ARE A SUBSCRIBER, SUCH AS A LESSON PROVIDER, TO OUR SERVICES OR U.S.$10 IF YOU ARE A NON-SUBSCRIBER, WHETHER OR NOT YOU OTHERWISE USE OUR SERVICES.
Indemnification
By accepting these Terms of Use, you agree to indemnify and otherwise hold harmless Faster Lessons and its officers, directors, employees, agents, subsidiaries, affiliates, licensors, suppliers and other partners from any fines, sanctions, actions or third party claims (including, in the case of Subscribers to the Services, claims by your customers or clients) and any resulting damages or liability of any nature arising in connection with your use of this Site, including the reasonable costs of defending or settling such actions or claims. Advertising and other Linking This Site may contain links to other sites, including advertisements linking to sites offering third party products and services. These sites are not maintained or controlled by us, and we are not responsible for their content or actions. Access to any other site linked to this Site is at the user's own risk and Faster Lessons is not responsible for the accuracy or reliability of any information, data, opinions, advice or statements made on or products or services offered by these sites. The inclusion of such links does not imply an endorsement of such third party sites.
Access to Password Protected/Secure Areas
Access to and use of password protected and/or secure areas of the Site is restricted to authorized users only. Unauthorized individuals attempting to access these areas of the Site may be subject to prosecution. Trademarks Faster Lessons and related logos are protected by state and federal trademark laws. You agree not to display or use these trademarks in any manner without Faster Lessons' prior written permission. Other trademarks appear on this Site with permission from their respective owners. Your unauthorized use of trademarks appearing on this Site may constitute trademark infringement, which could subject you to substantial civil penalties.
Governing Law
This Agreement between you and Faster Lessons will be governed by and construed in accordance with the laws of the State of Maryland without regard to conflict of laws principles.
Jurisdiction
This Site is controlled and operated by Faster Lessons, LLC from its principal office in the State of Maryland, United States of America. Faster Lessons makes no representation that materials on the Faster Lessons site are appropriate or available for use in other locations. Recognizing the global nature of the Internet, you agree to comply with all applicable local rules. The Site is not intended to subject Faster Lessons to the laws or jurisdiction of any state, country or territory other than the State of Maryland and the United States of America.
Notices
Faster Lessons may deliver notice to you under these Terms of Use by means of email, a general notice posted on this Site, or by written communication delivered by first-class U.S. mail to the address that you have provided to Faster Lessons. You may give notice to, or submit comments or questions to, Faster Lessons at any time via email or by letter delivered by first-class postage prepared mail or overnight courier to either of the following addresses:
Faster Lessons
Attn: Terms of Use 18966 Bonanza Way,
Gaithersburg, MD 20879
E-mail: customerservice@fasterlessons.com
Survival
The provisions of these Terms of Use entitled "General Disclaimer," "Disclaimer of Warranties," "Limitation of Liability," "Indemnification," "Jurisdiction" and "General Provisions" will survive the termination of this Agreement.
General Provisions
Except as provided in a particular "Legal Notice" on this Site, these Terms of Use, along with the Faster Lessons Privacy Policy, constitute the entire agreement and understanding between you and Faster Lessons with respect to use of this Site, superseding all prior or contemporaneous communications with Faster Lessons. These Terms of Use are severable and, in the event any provision is determined to be invalid or unenforceable, such invalidity or unenforceability shall not in any way affect the validity or enforceability of the remaining provisions. A printed version of these Terms of Use shall be admissible in judicial or administrative proceedings based upon or relating to use of this Site to the same extent and subject to the same conditions as other business documents and records originally generated and maintained in printed form. The section titles of this Agreement are displayed for convenience only and have no legal effect. Nothing in this Agreement shall be deemed to confer any third-party rights or benefits. This Agreement may not be assigned by you without the prior written approval of Faster Lessons but may be assigned without your consent by Faster Lessons to (i) a parent or subsidiary, (ii) an acquirer of substantially all of its shares or of the assets to which this agreement relates, or (iii) a successor by merger, consolidation or other form of reorganization. Any purported assignment in violation of this section shall be void.
SUBSCRIPTION TERMS
If you subscribe to any service through this Site, whether on a free basis or on a fee-paying basis, the following terms and conditions apply, in addition to the general sections of our Terms of Use (see above).
Minimum Age
You must be 18 years or older to subscribe if a U.S. resident, or over the age of majority in your province or territory of residence if a Canadian resident.
Rolling Subscriptions; Cancellation
Our current subscription options are described here. Subscription membership in the Service is on a continuous service basis. This means that once you have become a subscribing member (after the expiration of any no-charge grace period), your subscription will be automatically renewed and your billing choice will be charged in advance based on the subscription program (annual, quarterly, monthly, etc.) you have chosen. Faster Lessons reserves the right to refuse any order for a subscription. Billing charges will be processed within [48] hours after your order is accepted. Except in the case of monthly subscriptions, you will be notified by e-mail 15 days before your subscription will end, asked to correct any information which has changed and reminded of the opportunity to "opt out" of your renewal. You may cancel by phone by calling Faster Lessons at 888-980-7444 at least 5 business days before the renewal date for the cancellation to be effective or you may cancel at least 5 business days before the renewal date via your Manage Subscription page while logged on at Faster Lessons.com by following the Cancel Subscription link on that page and following the process there. You may cancel a monthly subscription with effect from the end of a month by giving notice at least 5 business days before the end of that month, either by phone by calling Faster Lessons at 888-980-7444 or via your Manage Subscription page while logged on at Faster Lessons.com by following the Cancel Subscription link on that page and following the process there. We will send you an email confirmation once your cancellation has been processed.
Increases in Subscription Fees
Subscription costs may be changed by Faster Lessons at any time and each renewal of your subscription will be at the then standard renewal cost for the period that you originally selected when you subscribed.
Additional Credit Card Processing Fees
Your subscription fees pay for access to the Services, excluding the credit card processing fee for user transactions (such as when your customers use a credit card to pay for lessons). Payments for lessons are processed by a third party service provider. You must agree to the credit card processor's separate terms and conditions to use the Service.
Advertisements
You acknowledge and agree that Faster Lessons has the right to insert or display its own or third party advertisements as part of the Services, including on pages visible to your customers. Without such advertisements, our subscription fees would be substantially higher.
Accuracy of Information
You agree to provide Faster Lessons with complete and accurate billing and contact information. This information includes your own name and title, your legal company name if you are entering into this agreement on behalf of a company, street address, e-mail address, and name and telephone number of an authorized billing contact. You agree to update this information within 30 days of any change to it. If the contact information you have provided is false or fraudulent, Faster Lessons reserves the right to terminate your access to the Service immediately in addition to any other legal remedies.
Suspension
In addition to any other legal remedies, Faster Lessons reserves the right to suspend or terminate this Agreement and your access to the Services if you violate these Terms and Conditions, including if your account becomes delinquent (that is, you don't make payments when due). Delinquent invoices are subject to interest of 1.5% per month on any outstanding balance, or the maximum permitted by law, whichever is less, plus all expenses of collection. You will remain obligated to pay the balance due on your account. You agree that Faster Lessons may charge such unpaid fees to your credit card or otherwise bill you for such unpaid fees.
Reconnection Charge
Faster Lessons reserves the right to impose a reconnection fee in the event you are suspended and thereafter request access to the Service. You agree and acknowledge that Faster Lessons has no obligation to retain your business data or your customers' data in your account and that such data may be irretrievably deleted if your account is 30 days or more delinquent.
Account Security
You are responsible for all usage or activity on Faster Lessons via your password-protected account. Distribution of your password to others for access to Faster Lessons is expressly prohibited and shall constitute a breach of this Agreement. Any fraudulent, abusive, or otherwise illegal activity may be grounds for termination of your account, at our sole discretion, and you may be referred to appropriate law enforcement agencies.
You shall notify us by e-mail to security@fasterlessons.com of any known or suspected unauthorized use(s) of your account, or any known or suspected breach of security, including loss, theft, or unauthorized disclosure of your password or billing information. You will be responsible for maintaining the confidentiality of your password. You will never be required to reveal your password to any representative or agent of Faster Lessons, its owners or agents.
Modification of the Services
Faster Lessons reserves the right to modify the Services in its sole discretion, provided that you will continue to receive materially the same or better functionality and features.
Take The Tour
View screenshots to see how easy it is for students to schedule and manage lessons using the Faster Lessons program. Also, get a chance to view many of the beneficial administrative features for individual instructors and facilities.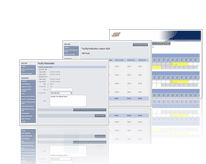 Products and Features
Check out the products and features that will help you grow and manage your lesson scheduling and facility business. See how Faster Lessons can be customized for your business and how using the program can save you time and money!