Faster Lessons Subscription Packages
Faster Lessons programs are web based monthly subscription products that do not require you to download or purchase any software.
Take The Tour
View screenshots to see how easy it is for students to schedule and manage lessons using the Faster Lessons program. Also, get a chance to view many of the beneficial administrative features for individual instructors and facilities.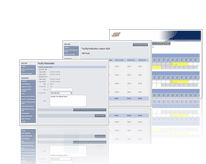 Products and Features
Check out the products and features that will help you grow and manage your lesson scheduling and facility business. See how Faster Lessons can be customized for your business and how using the program can save you time and money!